6 Reasons Drones are the Future of FireFighting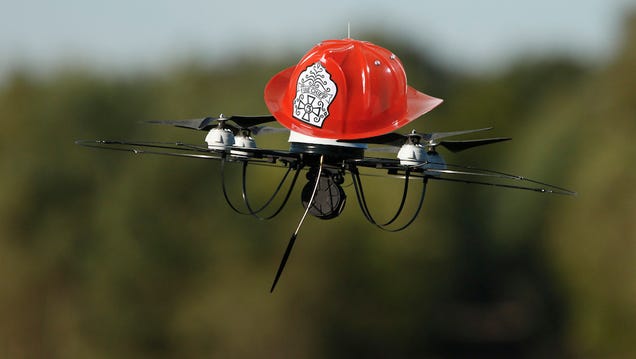 This is part of the series "Drones are the Future" – a collection of posts outlining the amazing impact UAVs will have on our world in the not-so-distant future.
Firefighters across the globe are already drones to assist in fighting fires of all sizes. For the most part, the technology has arrived. However, current regulations and expense prevent firefighting drones from becoming commonplace…for now.
Looking into our crystal ball, it's easy to understand why firefighting agencies are anxious to put firefighting UAV to use in saving trees, property, and lives.
Here are 6 ways we think we'll use drones to fight fires in the not-so-distant future.
1) Provide Visuals and Maps
An unmanned aerial vehicle can provide important data to help firefighters understand the scope and risk of a particular fire. Without endangering human life, drones can identify fire location and density, capture photography and video that will be helpful, and use heat sensors and mapping software to create a map of the blaze.
2) See Through the Smoke
With infrared capability, firefighting UAVs can provide accurate visuals in an area where thick smoke keeps manned helicopters from gathering information.
3) Long Term Monitoring & Alerts
Firefighting drones with longer battery life can provide longer-term monitoring and give real-time information to firefighters on the ground. When conditions change or the fire jumps the line, the UAV can alert officials.
4) Reach Those Tough-to-Reach Areas
With their ability to fly into spaces where helicopters are unable to reach, either because of conditions or terrain, firefighting UAVs can capture necessary data without putting a human in danger.
5) Deliver Supplies
Drones can deliver much-needed supplies such as food, water, first aid or fuel to firefighters on the ground engaged in battling the blaze.
6) Provide Internet Signal
Drones can hover over dead zones, providing an Internet signal to firefighters' smartphones/tablets on the ground.Firefighters use Internet connections to disseminate vital information to firefighters on the ground. Internet-based apps can help calculate the speed that fire is moving and identify the risk of homes in the vicinity being destroyed. Today, firefighters climb to a ridge where they can get an Internet signal or they work with telecom companies to establish portable cell towers.
Conclusion
Drones are the future of firefighting. As the technology matures, costs will come down, and their use will be commonplace among firefighting agencies all over the world. Whether they are mapping out the hot spots, providing needed supplies and internet to firefighters, or just generally going where a human cannot, firefighters will become more effective, move faster, and save more lives and property in the process.